Advancing edtech in adult learning: the SkillRise framework
By the SkillRise Editorial Team
It's a new year, a new decade - and a new SkillRise blog! This channel is dedicated to storytelling around innovations in adult learning, the future of work, and the power of educational technology (edtech) to support upskilling.
Empowering Adult Learners
Today's technological developments are some of the greatest engines of change in work, retail, and the economy. As a result, shifts in workforce needs are coming at a rapid rate. Innovations like machine learning and artificial intelligence can maximize efficiency and reduce the number of rote tasks for workers, but with a shift in required tasks, new skill sets and mindsets are needed in order to navigate learning and applying new technologies to fit the tasks at hand. Agile, creative thinking and digital competencies have become requirements to be competitive in the workforce.
SkillRise is an ISTE initiative that helps organizations dedicated to adult learning advance the use of educational technology to transform the lives of workers and help them thrive in their careers. SkillRise seeks to jumpstart curiosity and build knowledge about edtech and adult learning, empowering organizations to use that information to provide better educational opportunities for working learners who want to build their skills and get better jobs.

The SkillRise framework was built to help adult learning and workforce development organizations understand how to leverage technology to improve education and training programs. With this blog, we're excited to release an infographic that summarizes the framework.
The SkillRise framework walks adult educators and leaders through the steps necessary to make informed decisions about how to select and use edtech to support adult learning that is effective, inclusive, and efficient. The steps outlined in the framework include:
Vision & Readiness - How to determine if your organization is ready to invest in tech.
Team Capacity & Development - How to ensure your staff has the right skills and mindsets.
Research & Planning - How to know what your learners really need so that you choose the right technology.
Procurement & Implementation - How to make smart choices in purchasing and rolling out your new technology.
Communications & Professional Learning Networks - How to tell the world about your new offering and help staff grow their professional networks.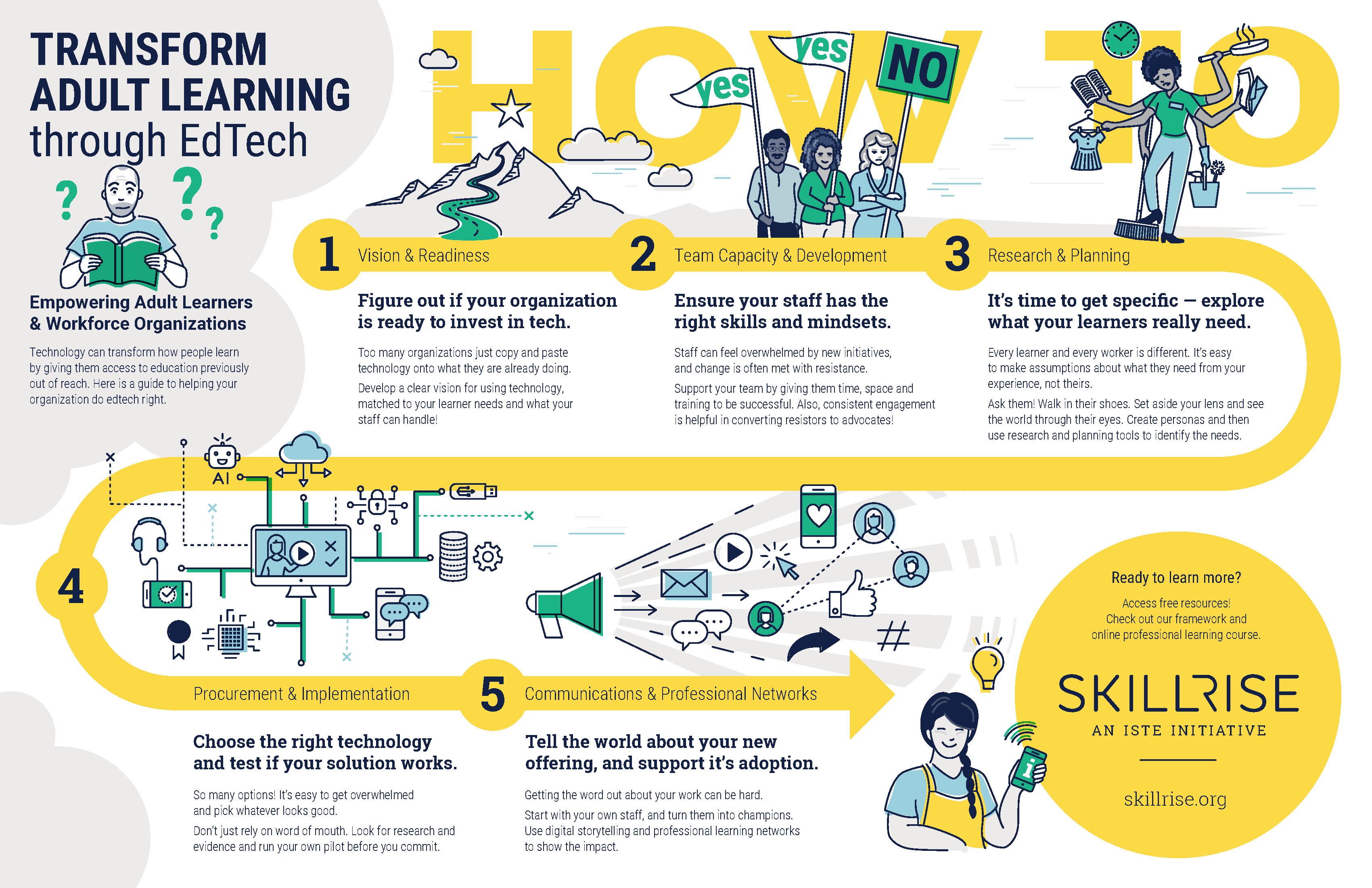 You can download the infographic by clicking here, or download the framework or executive summary from https://skillrise.org/framework. And if you want to take the next step to deepen your learning about effective practices in edtech selection and implementation in adult learning contexts, we invite you to enroll in the SkillRise course, a free, online, facilitated 6-week learning experience. The course offers learners an opportunity to receive expert guidance in charting a new course for learning at their organizations that leverages edtech. Are you ready? Click here to learn more about the course and sign up to be a part of our next cohort.
Through SkillRise, ISTE is providing resources that support the planning, implementation and sustainability of edtech solutions to prepare workers for the careers of today and tomorrow. Stay tuned as we continue to share updates and learnings through articles and podcasts about lifelong learning and the future of work. You can also connect with us on social media (Twitter or LinkedIn) or email skillrise@iste.org to learn more, and be sure to check out our podcast series which will feature a second season released this year!
---
The SkillRise Editorial Team consists of:
- As Director of Research at ISTE, Brandon Olszewski brings experience in educational research, edtech, and adult professional learning to the project. He leads the SkillRise initiative. Find Brandon on Twitter or LinkedIn.
- Lea Downing is an ISTE SkillRise Project Manager, bringing to the project experience in adult education, community college education, edtech, and nonprofit management. She is also the Curriculum Designer for the Adult Education Program at Delgado Community College. Find Lea on LinkedIn.
- Joey Lehrman is a SkillRise Project Manager with ISTE and the Program Effectiveness Coordinator for the Adult Education Program at Delgado Community College, where he brings over 10 years of experience as a classroom teacher and administrator in adult education and career pathway programming. Find Joey on Twitter @joey_lehrman or LinkedIn.